Reflections on Fabtech: Manufacturing Leadership in a Time of Change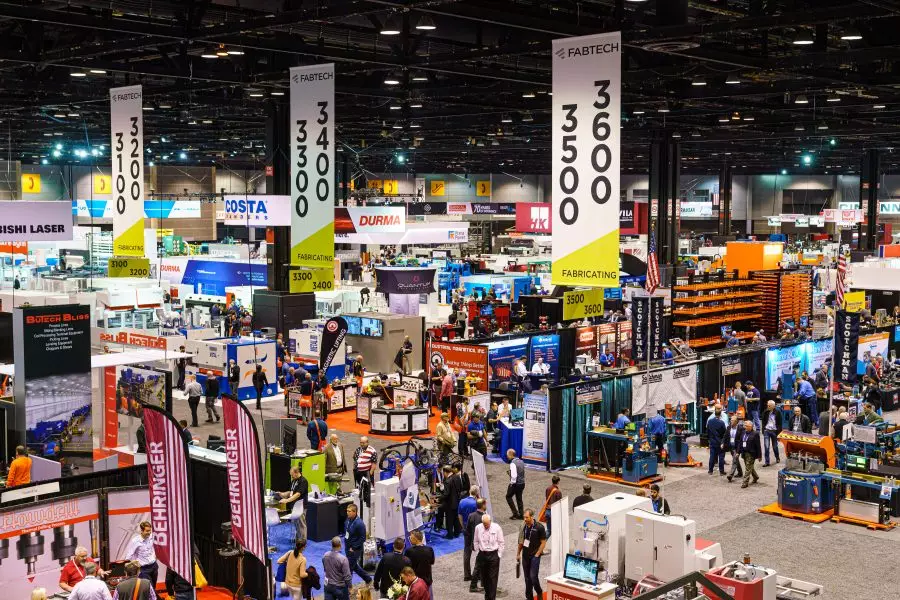 We had a great time at FABTECH in Chicago last month. FABTECH is North America's largest metal forming, fabricating, welding and finishing event.
Naturally, employee safety continues to be top of mind during the pandemic, and concerns about traveling and gathering in large groups significantly impacted show attendance. It was interesting to see how exhibitors and attendees made the most of the event with creative displays and demonstrations.
Because Mika is growing and evolving, our team was most interested in certain aspects of production machinery, including laser cutters, punch presses and finishing equipment, along with ways to improve efficiencies in our paint shop. While many trends and talking points centered on material shortages, higher prices, and labor shortages, the overall focus was on improving productivity and increasing profits in the metal forming and fabricating industry.
Tech Talks focused on automation, artificial intelligence, and data analytics.
Automation, Leadership, and the Future of Metal Fabrication
Mika is not looking to completely automate shop floor functions; however, we are looking forward to installing a new Amada press brake as we update some older bending machinery. A faster, more efficient deburring machine is also coming soon. Fortunately, we have a solid and experienced staff to operate these machines and other specialty equipment.
Regarding the ongoing concern over labor shortages, the rallying cry from everyone - keynote speakers, individual break-out session instructors, and exhibitors alike - was "automate as much as possible."
Importantly, trends toward automation in the industry encompasses more than shop floor functions.
Using data to make strategic decisions was highly emphasized, from vendor and supplier performance to customer analysis. While most of our customers probably haven't noticed yet, Mika has recently upgraded our ERP system, installed a CRM platform and built out a new website to support marketing automation. As we begin using more features of those systems, our customers should see quicker turnaround on estimating times and some other positive changes.
Several FABTECH speakers explained how better use of data and automation could help improve hiring procedures and increase retention - both keys to building competitive organizations or "next generation workplaces." Of course, it's still important to hire wisely, train well, and offer real opportunities to dedicated employees. The key take-a-way was that good people are critical for success in this (and any) industry!
Two key ways Mika is building its team: cross-training and promoting from within
Customer Service, Special Metal Fabricating Techniques Also Discussed
More robust data analysis and improved customer communication can lead to better relationships with vendors and customers. At Mika, we already provide White Glove packing service for transport to avoid product damage, and we work closely - from the design phase - with customers who require complex, high quality, tight tolerance, durable production-run assemblies and sub-assemblies (including PEM insertion).
While 3D Printing/Additive Manufacturing is not yet mainstream, it's an arena we're watching closely - particularly as metal powders are being refined and most now have a negligible effect on tensile strength.
What capabilities are you looking for in your metal fabrication partners? Let's discuss your needs and our expanding specialties! Contact us today.
"Fab" Experience at FABTECH
Overall, we felt safe at FABTECH and feel the knowledge we gained there will benefit our customers, employees, and the company. Plus, it was fun.
We were delighted to attend a Happy Hour at LuxBar hosted by the folks at Phoenix Metals. It was a wonderful opportunity to speak with fellow metal fabricating shop owners in a non-competitive environment to exchange notes, express concerns and talk about the future of the industry.
Don't wait until the next "FAB" trade show to talk about trends you see in the industry, and the direction you'd like to grow. At Mika, we know our customers make what matters - and together, we can make it even better!
.