Meet Nicholas Tamburiello Our New Employee Of 2nd Quarter
Voted employee of the Quarter by his peers and members of the Mika Metal Leadership Team, one only has to start speaking with Nick Tamburiello to quickly understand he's a perfect fit for the manufacturing industry because he likes working with his hands and making things.
Nick Tamburiello joined the Mika Metal Fabricating family in May 2021 as a press brake operator and never looked back. In fact, his hard work and positive attitude helped him advance to laser cutting and punch press operator, the roles he is in today, in a relatively short period of time.
Prior to coming to our organization, Nick worked at other local manufacturing companies in various shop floor capacities. He says what he likes best about working at Mika is, "We're all a team and willing to help each other. Everyone cares for one another on a personal level, you're not just a number on the time clock here." He recalls how people helped him find things and showed him the ropes when he first joined the company.
By the same token, Nick has earned the respect of his co-workers for the dedication to his craft, along with his energetic, caring - but tough personality.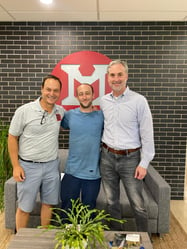 Nick pictured here with Mika Metal co-owners Scott Shelfer and Ryan Thomas.
But there's more to Nick than just work. In his personal life, he has hobbies such as metal working, woodworking and carpentry. One of his more recent projects was building a set of stairs for his pool, but you can also find him doing plumbing, painting or about anything needed around the house. Nick is also a car buff and likes collecting tools. A little-known fact about Nick is that he describes himself as a world history nerd – in particular he enjoys learning about Ancient Rome.
Most of all, Nick is proud of his wife Amber, and their three children. Together since 2008, their 12-year-old daughter along with 4 month and 1-year old sons keep them busy!
His favorite movie is Sling Blade, with his favorite line by actor Billy Bob Thornton in the lawn mower scene being:"It ain't got no gas in it". Nick loves KIND Bars or anything with peanut butter in it. If time and money were no object, he would travel to Las Vegas because he's never been there before and thinks it sounds like an exciting place. He would also like to check out the food and shopping!
Please help Mika Metal Fabricating congratulate NickTamburiello on being our Q3 Employee of the Quarter!