Jason Hill voted Employee of the Quarter
It is with great pleasure that Mika Metal Fabricating announces Jason Hill, Welding Supervisor, has been voted our Q3 2022 Employee of the Quarter. His hard work, pleasant demeanor, and leadership qualities made him a clear choice among members of the Leadership Team and his peers.
Jason's Career Path
Jason began his career with Mika nearly 14 years ago as a temporary worker and quickly migrated to an official employee within a year of starting. He's worked in just about every department from punching, bending, and grinding to spot welding, welding, and assembly. As a self-proclaimed introvert, Jason was drawn to welding because he could work in his own space – somewhat secluded from the rest of the shop floor.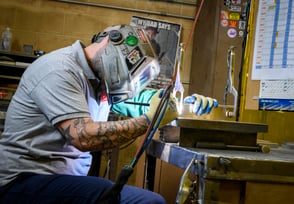 Jason Outside of Work
Jason has plenty of interesting hobbies. For example, he collects and takes care of his 5 snakes, 2 turtles a tarantula, and several other animals. He also enjoys fishing and visiting parks with his family.
When asked what he is most proud of, Hill says, "My wife and kids!". Jason was recently married to Rachel Cole Hill - who also happens to be a Mika employee and our Q1 2021 Employee of the Quarter. Jason and Rachel got married in February on 2/22/22. They chose the date because it was a palindrome; meaning the date reads the same forward as backward. The couple has three children, two boys (Chase who's 16, and Colton who's 11), along with one daughter, Raegan who is six.
Fun Facts
Some things Jason's co-workers might not know about him are his favorite movie is "Full Metal Jacket". He likes this movie because it's a classic about the Viet Nam war and it shows realism. His favorite snack is gummy bears – and if time and money were no object, he would like to travel to Alaska to fish and hunt and to New Zealand for the beautiful landscape.
Please join us in helping Mika Metal Fabricating congratulate Jason Hill on being our Q3 Employee of the Quarter!
Related Articles:
https://blog.mikafab.com/en-us/getting-to-know-rachel-cole-press-brake-operator
https://blog.mikafab.com/en-us/drive-down-product-cost-for-welded-sheet-metal-applications