Meet Mika Maker Eric Bell - Spot Welder & Assembler
This month, we are pleased to feature Eric Bell.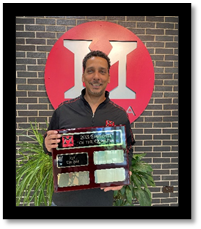 The path to where he is today.
Eric is a jack of all trades here at Mika. Over his 22 years at our company, he has participated in just about every area that one could. Starting his career as a janitor, he worked his way up through laser operation, bending and inspection before landing in his current role in spot welding and assembly.
Eric is the first Safety Manager the organization has ever had, was voted the first Employee of the Quarter by his peers and the Mika Leadership team and is now an Estimator in training. With Eric's ability and willingness to grow, learn and go above and beyond to help out wherever needed, he's truly an asset to the Mika organization!
When asked about his key to success, Eric cites his intense focus, dedication, attention to the quality of his work – and work ethic – being the reasons he has excelled at what he does.
One of Erics' greatest strengths is being a great mediator and making strong connections with his co-workers. Due to his easy-going personality, should things ever get heated at work, Eric has the natural ability to help everybody take a step back, relax and focus on the tasks at hand. When co-worker Kevin Timms, was asked to describe Eric, Kevin chose the words "a good guy."
What Eric Likes Most About Working at Mika Metal Fabricating.
When asked what he likes best about Mika, Eric did not even have to think about it. He immediately answered, "the new regime"! He went on to say, "I believe since Ryan Thomas and Scott Shelfer have taken over the company, it has improved and I am much more excited to work here. The company is becoming more efficient and successful with the hard work of my new employers".
Who is Eric Outside of Work?
While Eric is a very open person, there are some little-known facts his co-workers may not be aware of. For example, he describes himself as being the life of the party, he likes taking walks in the park and watching movies – his favorite is "The Godfather".
Some of Eric's favorite snacks are barbeque potato chips and oatmeal raisin cookies, and although he knows oatmeal raisin cookies are not always everyone's favorite, he firmly believes there is more to life than just chocolate chip!! In fact, he cannot possibly understand how anyone wouldn't like them.
If time and money were no object, Eric would travel to Egypt and explore the pyramids; that's always been a dream of his. And finally, when asked what he is most proud of, by far, he is most proud of his kids and the wonderful people they have become.
We too are proud of Eric and are so pleased he is on our team. We are confident that he will continue to succeed at our company and can't wait to see what else he accomplishes! To learn more about Mika Metal Fabricating, visit our website at https://mikafab.com/