Meet Mika Maker Rachel Cole -Press Brake Operator
Mika Metal Fabricating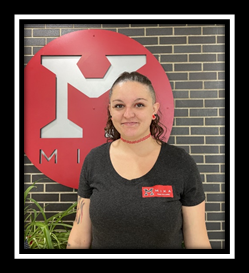 Q2 Employee of the Quarter
Rachel's path to where she is today.
Throughout her nearly 4 years with Mika Metal Fabricating, Rachel has progressed by staying motivated and excited to learn. She began in the assembly department but quickly made her way up to bending and forming. Now, Rachel can program, set up and run all eight of the press brakes on our floor. She also knows how to operate the laser cutter and is developing her drilling, tapping and spot-welding skills.
Rachel's Role at this Company.
From the start, Rachel has been a team player and a great role model. She's learned a variety of operations and has been excited to become proficient at every one of them. She is reliable and very conscientious about her work. As Matt Brinkman, Materials Manager at Mika has to say, "she's always willing to help wherever she's needed, a great quality to have in a leader."
Rachel said that one her proudest accomplishments is winning employee of the quarter. "I'm proud that my hard work and dedication has paid off in such a way that I was recognized for it, and that made me feel really good about myself." She has also been proud to go on multiple business trips to look at new equipment and give feedback and recommendations - an opportunity that can only have been provided to her due to the hard work and positive attitude she has put into the company.
Who is Rachel Outside of Work?
Rachel loves to do many things, one of which is Diamond Art – a combination of cross-stitch and paint-by-number which requires applying hundreds of sparkling resin rhinestones, one-by-one on a color-coded canvas. Above all, she loves spending time with her kids just being a Mom. She also spends considerable time outside of work attending to her reptiles, ducks, two cats and a dog.
A couple of her favorite movies are "Death Becomes Her" and "Dead Alive" while her favorite snacks are beef jerky and anything with pickles. If she could travel anywhere, Rachel would take her kids to Disneyland. However, if she were travelling just for herself, she would go to Ireland and learn about her family history.
Something many people might not know about Rachel is that when she was 15 years old, she was adventurous enough to go skydiving; however, now she has a strong dislike of flying in airplanes!
Future Plans
Rachel really appreciates all the opportunities given to her in the last four years at Mika Metal Fabricating. Knowing there is significant room to move around within the company and advance, she says she, "looks forward to continuing to work her way up the ladder and gaining more knowledge from such an amazing workplace".
We too are proud of Rachel and are so pleased she is on our team. We are confident she will continue to build her leadership skills and go on to do great things!