Meet Nate Campbell Q1 2023 Employee of the Quarter
Mika Metal Fabricating is happy to announce Supervisor Nathan Campbell as our Q1 2023 Employee of the Quarter. This is a well-deserved award for his dedication to the team and the hard work he puts in every day.
Get To Know Nate
Nate started his career with Mika in January 2006 as a temporary worker. Throughout his 17 years with our organization, he has held numerous positions on our custom sheet metal manufacturing floor, leading to his current role as supervisor in the spot welding, assembly, and silk-screening departments.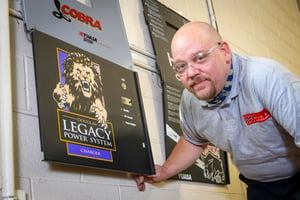 When asked what he likes best about working at Mika, Nate said, "The people! I cannot think of a single place I have worked where the vast majority get along so well or would do so much for one another. We are a work family."
Outside Of Work
There is more to Nate than just work, he has quite a few interests and hobbies that allow him to flex his critical thinking and creative skills. For example, he learned how to rebuild a car engine (thanks to his co-worker Gary Hixon) and now he's learning how to work on motorcycles – when he isn't riding one. He's also been known to build things, like an Adirondack chair from scrap pallet wood. Nate also enjoys home repairs, remodeling, and yard work.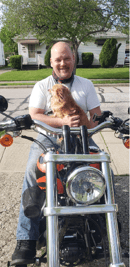 Fun Facts
Other little-known facts about Nate, are his favorite snack is Reese's (of all kinds except white chocolate). His three favorite movies are the American Christmas classic, "It's a Wonderful Life", the 1986 action film "Raw Deal" with Arnold Schwarzenegger, and "The Beastmaster". If time and money were no object, Nate would go to Ireland to see the castles and cliffs and do a Mediterranean tour of Spain, Italy, Greece, Israel, Egypt, and Morocco.
Nate describes himself as dedicated, while those around him would say he is very knowledgeable. He is most proud of the amazing support system he has built and maintained in both his personal and professional life. He states, "Without those around me I would be nowhere".
Here at Mika, we would be nowhere without people like Nate. He gives 100% every day – and that effort has been recognized by his peers. On that note, we would like to THANK Nate for his contributions and CONGRATULATE him for being our Q1 2023 Employee of the Quarter!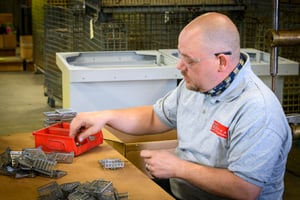 Related articles:
https://blog.mikafab.com/en-us/jason-hill-voted-employee-of-the-quarter
https://blog.mikafab.com/en-us/meet-nicholas-tamburiello-our-new-employee-of-2nd-quarter
https://blog.mikafab.com/en-us/getting-to-know-matt-brinkman-materials-manager
Links:
https://en.wikipedia.org/wiki/It%27s_a_Wonderful_Life
https://en.wikipedia.org/wiki/Raw_Deal_(1986_film)
https://www.imdb.com/title/tt0083630/
https://www.facebook.com/reeses/