Getting to Know Matt Brinkman – Materials Manager
Voted Employee of the Quarter by his peers and members of the Leadership Team, Matt Brinkman is already making a mark at Mika. Read on to learn more about this Cincinnati native and former college football player

Matthew Brinkman, Materials Manager, has only been at Mika for about a year; however, his contributions have added big dividends to the organization during his short tenure. Since joining the team, Matt has been developing systems to better track inventory across the company for mild steel, aluminum, stainless steel, hardware, and powder coating. Under the tutelage of experienced staff, he'll also be learning to plan and purchase everything the company needs to produce orders on behalf of customers.
Patient, Hardworking Professional
Matt's professional talents include creating and managing Excel spreadsheets, logistics, seeing problems and solutions from different perspectives and motivating people.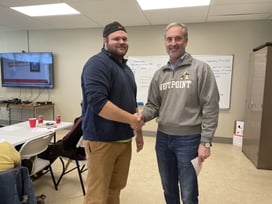 Matt shared that what he likes best about working at Mika is "The developing company culture. The people here do not need any artificial motivation, they understand what needs to get done and work as hard as possible to get it done. Whatever it takes to get the product out the door and revenue in the building, the people will do their best." He went on to say, "Also, company President, Ryan Thomas, who is making organizational changes which help workers, personally and professionally, as much as possible. He leads from the front."
Matt describes himself as a perceptive, honest, hardworking problem solver. His friends and family agree on his work ethic, but they also include his quiet and patient demeanor.
Avid Sports Fan and Dedicated Husband
Outside of work, Matt is interested in Formula One along with sports like football, baseball, and basketball - in fact, he's pretty good at shooting 3-pointers. He also played collegiate football at Wittenberg University as a Tight End/Offensive Lineman. He received his Bachelor's Degree in 2016 in, you guessed it, Sports Management! He's also got an affinity for video games like Madden, NBA 2k, Call of Duty, Warcraft, and Diablo.
When he's not working or involved in sports, Matt can be found playing with his puppy, Arthur, who is half Bernese Mountain Dog and half Irish Setter, watching his favorite movie Avengers Infinity Wars or anything from the Harry Potter series, eating Skyline Chili (it's a Cincinnati "thing"), landscaping his new home – or whatever else his wife Maggie wants done.
If time and money were no object, Matt would like to travel, maybe even live on a cruise ship, exploring places like Egypt and Alaska.
Please join the team of Mika Metal Fabricating in congratulating Matt Brinkman for being selected
Employee of the Quarter, Q1 2022.
Thanks, Matt, for all that you do to help us succeed!
Interested in joining the Mika Team? Check out our Open Positions at www.mikafab.com/careers