Mika Metal Fabricating Wins 2023 Small Business Award
Mika starts 2023 off with wonderful news. Ryan Thomas, President of Mika Metal was awarded the "2023 Distinguished Small Business Award" from the Willoughby Western Lake County Chamber of Commerce.
In 2020 while the rest of the world was at a standstill with the Covid-19 Pandemic, neighbors Ryan Thomas, and Scott Shelfer decided to purchase Mika Metal Fabricating from the Mika family. The organization had been in business since 1939 and while it had "good bones" it was in serious need of a revamp.
Excited to reshape the company, Ryan and Scott's mission was to create "Raving Fans and a Passionate Team." That became the inspiration for a set of Core Values that would become the guide for all decisions going forward. "Fans First," "Team Always," Sustainable Success" and "Greater Good" are the company mantra.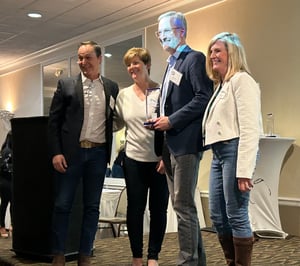 To create a better working environment and increase employee morale significant upgrades, to the tune of about $3M, have been made to the building, shop floor, and front office spaces. For example, new overhead lighting, fire extinguishers, first-aid, and eye wash stations have been installed throughout the plant along with mats in front of each machine to improve production employee comfort and safety. We've also purchased four new pieces of capital equipment – with more to come.
To provide a better customer experience, the front offices got a facelift with freshly painted walls and new lobby furniture.
Ryan's efforts to reshape company culture have largely been the reason employee headcount has almost doubled over the past two years. Quite an accomplishment – especially during very tight labor.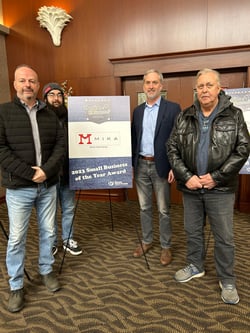 Ryan believes participating in organizations like our local area Chamber of Commerce, is a great way to support other small businesses and help our community grow. So as Mika Metal continues to flourish, we hope we will be able to contribute to the Greater Good of our neighbors.
We couldn't be prouder of Ryan. Please join us in congratulating him on this achievement!
Related articles:
https://blog.mikafab.com/en-us/mika-metal-fabricating-fans-first-team-always-culture