Meet Mika Maker Will Cantrell – Paint Shop Supervisor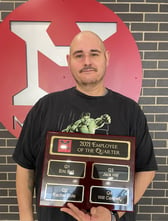 Throughout his 18 years with Mika Metal Fabricating, Will's key to professional success is hard work and perseverance.
Will Cantrell has held many jobs during his time with Mika Metal Fabricating to get him where he is today. Some of those jobs included stints in shearing, assembly, de-burring and bending but his true area of interest and expertise was in the paint department. Today Will oversees 5 employees who perform washing, masking, painting, and screen printing for an array of products, spanning multiple industries across North America.
"Will"ingness to Learn and Adapt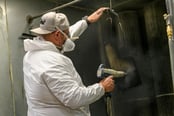 Under the new ownership of Mika, Will has flourished personally and professionally, embracing the many changes the organization has implemented in a short period of time. He believes aligning the company's core values with his own is the path to long-term growth and opportunity.
While he does not shy away from driving his team to be the best they can, he also holds himself to a very high standard when it comes to his work. At the end of the day, Will, who is more sensitive than some might think, looks at his co-workers as his "family away from home".
Will enjoys communicating with his colleagues and using his sense of humor to diffuse difficult situations. When asked to describe himself, Will replied, "I'm a die-hard worker who is proud to take on more responsibility", while his co-workers describe him as "crazy and passionate".
Dog Lover and Batman Fan
When he's not working, Will enjoys tending to his three pugs Gizmo, Pickles and Popeye, cleaning his Chevy Silverado and doing things with his family and friends.
Will's favorite movie line from Batman is "Have you ever danced with the devil in the pale moonlight". If time and money were no object, he would go to Tennessee, which he thinks is the most beautiful area in the United States. And if you really want to get on Will's good side, just give him a box of his favorite snack, Wheat Thins!
Please join us in congratulating Will Cantrell on being selected by his co-workers as the Mika Metal Fabricating Q4 2021 Employee of the Quarter! Thank you Will for your hard work and dedication, we appreciate all you do to make what matters!