Getting to Know Becki Cole - Director Sales & Marketing
Manufacturing Draws Cleveland Native Back
Rebecca Cole joined Mika in early 2021, in the new role of Director of Sales & Marketing. Ryan Thomas, President, said Cole was an excellent fit for the expanding NE Ohio company.
"Mika Metal Fabricating is at an exciting point in its already interesting history. When we purchased the company in 2020, we knew we needed someone with a background in marketing and manufacturing with a smart, innovative approach to helping us grow along with our customers. She started reaching out to clients on day one, talking with them to find out how Mika can help with their metal fabrication projects.
"Even though the COVID pandemic is wreaking havoc on supply chains and labor resources, she understands that our customers can't stop, because the products they make really matter. Virtually all of our customers are in essential businesses."
Crain's Cleveland Business recently ran a brief business bio highlighting Cole's manufacturing, product management, and research background. We thought you'd like to know a little more about her.
Cole received her MBA with an emphasis in Marketing from West Texas A & M University in 2017. During the time she was working on her degree, she was promoted to a Product Management and Market Research role with a large national food service packaging company where she previously held a field Sales position - and was relocated to the company's South Florida offices.
As she settled in during that very busy time, she says she enjoyed Ft. Lauderdale's beaches, it's warm, sunny winters, and blend of southern cultures she found there. "I loved the international vibe, particularly the Latin influence when it came to food, music and art - which is why I frequently went to Miami's Little Havana and Wynwood neighborhoods."
Back to Cleveland and More Manufacturing Experience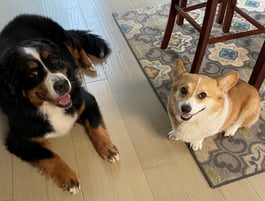 Cole grew up on Cleveland's east side, and currently lives in Geauga County with her husband, and two dogs. (Pete is a Bernese Mountain Dog and Sophie is a Pembroke Welsh Corgi. (Obviously, everyone asks about the dogs!). When she's not working, Cole enjoys hiking, yoga, watching movies and reading about - well, a lot of things!
"I consider myself a lifelong learner, and I read about different subjects as they catch my attention. I've delved into an eclectic mix of topics, from vintage pottery, glass and clothing, to the history of English Monarchs to how Q-tips are made," she said. (Yes, you read that right. Did we mention she really loves manufacturing?)
Someday, Cole and her husband hope to live on a boat full-time.
"It's been our dream to sail or motor down the Mississippi River and up the Intercoastal, docking for periods of time to immerse ourselves in coastal cities, and really getting an opportunity to understand the culture and history before moving on to the next port."
As for her next escapade, Cole is looking forward to learning to SCUBA dive.
Metal Fabrication and Other Adventures in Northeast Ohio
"Since starting at Mika I've enjoyed learning about sheet metal fabricating – the tremendous variety of products our customers make just fascinates me. I really appreciate that they are so willing to describe their work, and share their challenges, so I can learn more about what they do and how we can work together."
Wondering if Mika can handle your metal fabricating projects? Contact Rebecca – she'll work with you to see how we can help you Make What Matters.