Carlene Deas - Retiring After 31 Years of Service
Mika Metal Fabricating would like to recognize Carlene Deas on her retirement after 31 years of service with our company. Carlene started as a bookkeeper where she handled Accounts Payable, Accounts Receivable, and then took on Human Resources tasks including payroll. "I remember when I had to type the invoices and paychecks manually" laughs Carlene, "I used to enter the clock times for 30 to 40 employees - by hand in ledgers – it would take days, where now it only takes a few hours!" As Carlene's career progressed, she naturally took on the role as Office Manager, which in addition to her other duties, included ordering office and shop supplies and generally keeping things organized.
Prior to joining Mika in 1991, Carlene worked in retail at Gold Circle department store as a merchandiser. In the mid-to-late '90's she began learning how to use the computer and applications such as Microsoft Office Word and Excel. During this time, she also learned effective communication skills. This served her well over the years – particularly when she needed to guide fellow employees through sometimes difficult personal and professional situations. In fact, Carlene feels her greatest accomplishments, and for which she is most proud, is when she helped employees resolve problems during complicated medical or disability insurance issues.
She also got great satisfaction working with the company accountant to close the books at the end of each month. According to Deas, "it was like a puzzle, making sure everything balanced at the end." Carlene also stated she very much liked interacting with all the vendor representatives, some of which she has become long time friends.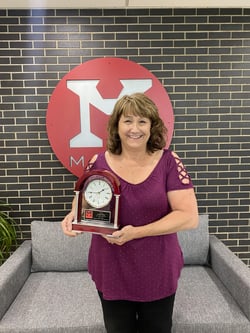 When asked what she thought was the greatest challenge of her career, Carlene said "changes in technology!" She went on to say, "technology in computers, software, phone systems, online platforms for payroll and ordering systems has changed so much – and so fast - over the years. Keeping up was a job in itself." She credits the new ownership, who bought the company in 2020, with helping her to continue to grow and learn in this regard.
Carlene's advice for her successor Kelley Farkas? "Develop relationships with employees so you, and they, will feel comfortable discussing sensitive subjects. Also, help guide employees to the proper resources, whatever the situation."
What will she do with her free time? Carlene, who has a flair for decorating, getting plenty of opportunity, at her Victorian home in downtown Willoughby, plans to start doing DIY projects like painting furniture, and selling things at craft shows. She would also like to travel, perhaps to Hawaii, or Scotland, where her husband Grant was born.
While we will miss her, please help us in wishing Carlene all the best, as she embarks on this next chapter of her llife!