Christopher Orlando Promoted to Associate Manufacturing Engineer
Mika Metal Fabricating would like to congratulate Christopher Orlando on his new position as Associate Manufacturing Engineer.
Chris graduated from Cleveland State University in 2021 with a Bachelor's in Mechanical Engineering and was a member of the Tau Kappa Epsilon (TKE) fraternity. He chose this major during sophomore year at Riverside High School in Painesville, when he was a member of the Fredon Corporation robotics team. During this time, he learned a lot about manufacturing, operating equipment, and dabbling in Solid works. The manufacturing bug had bitten.
Since joining our custom sheet metal shop, about a year ago, Chris started on the shop floor operating the Amada CO2 laser. Prior to this he worked in machine shops during college, mostly operating lathe and Bridgeport machines along with edge grinders and tow motors mixed in. He loves the manufacturing process; having an idea and then taking it step by step through the processes, from design to material selection to fabrication and on to finishing. Chris especially likes picking apart a design to uncover potential issues then finding a solution.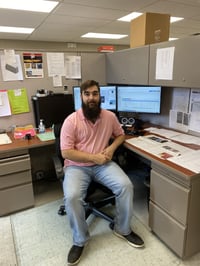 Outside of work, Chris's hobbies include cooking, grilling, baking and wine making. He says, "Everyone likes my lemon bars!" Chris also says, "I can feed a good-sized army with just a little bit of equipment and proper preparation." In college, he would cook family-style dinners for his fraternity brothers and large groups of friends. He's even been known to cook for weddings of his inner circle from time-to-time!
What he likes about Mika is the people. He says, "The workers here have the best intentions and do care about one another." For example, Chris quickly took note of press brake operator, Rachel Cole-Hill, and how she helped an ill co-worker with doctors' appointments and making sure he was okay. Chris said, "When you have workers who treat each other like family you look forward to coming back to work on Monday morning. You know coworkers genuinely care about you and want to do more than just clock in and clock out."
What makes Chris proud? Seeing products Mika makes used out in the world. The first time he saw an Ericson portable power box being used by a food vendor, Chris was down-right giddy knowing our company manufactured that enclosure - which ultimately made it to consumers - who he then bought food from!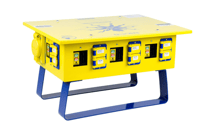 In his new position, Chris intends to learn as much as he can from Kevin Timms, our Senior Manufacturing Engineer and 40-year veteran. He also would like to continue improving our processes and move the organization into industry 4.0 automation.
We're very pleased to have Chris on our team and look forward to seeing him progress in his career. Please join us in congratulating him on his achievement!
Looking to join a company that promotes from within?